The "Three Rs" of being environmentally friendly that we grew up listening to has evolved into "Five Rs": Reduce, Reuse, Recycle, Repair and Rethink. Today, designers and architects are considering these five Rs before redeveloping an existing space to reduce its cost as well as being eco-friendly to maximise the usage of that space. The concept of having a sustainable space has encouraged urban cities to have more eco-friendly offices and homes today. You can have a creative eco-friendly office to match your office culture! Making the most use of an existing office space can be challenging but here are a few steps to make it possible.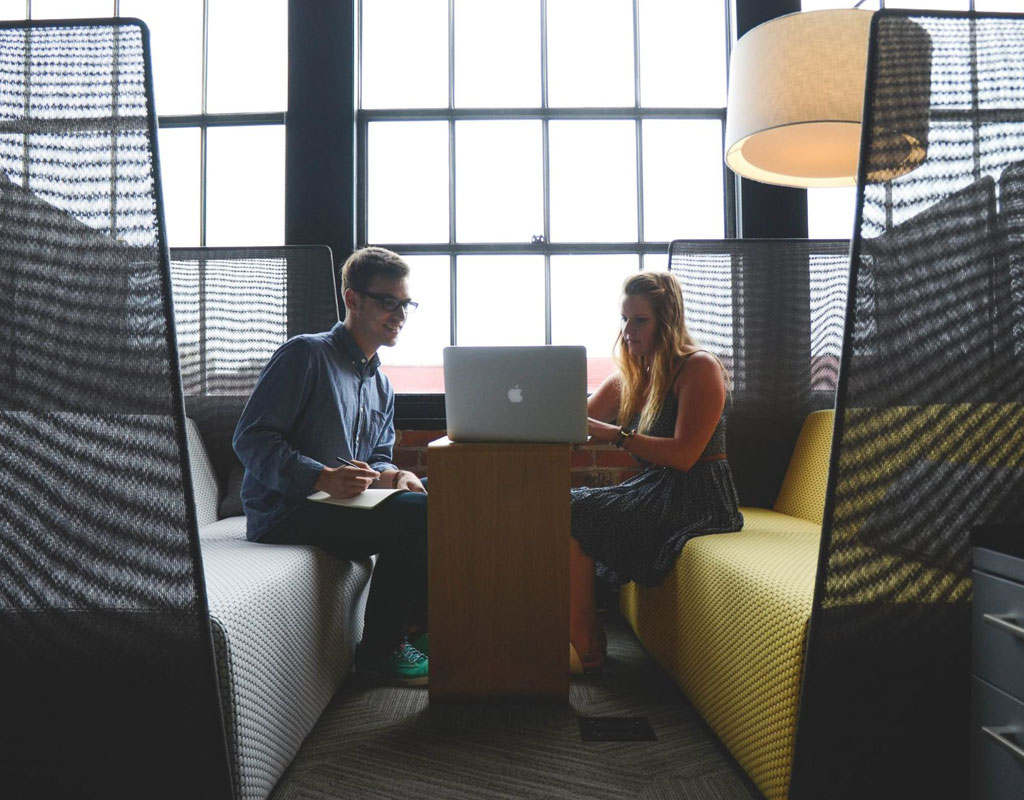 Image source: Pexels.com
Having a "Newsroom"
Key Features: Desk clusters, open spaces, flexible seating
Perfect For: Fast-paced work that requires lots of collaboration. This type of setup is perfect for any work where communication is key and there is a pressing need for impromptu meetings. Groups who don't have time to reserve conference rooms and scan schedules when they need to have meetings will benefit from this environment.
Tips and Tricks:
Push individual desks together to create a cluster of both large and small group tables.

Remove cubicle walls, partitions, and room dividers

Intersperse the office with comfortable, flexible seating options. Use what you already have and maybe supplement with some bean-bag seats.
Creating a "Hideout"
Key Features:
Sheltered cubes and privacy screens, plus lots of nooks and crannies
Perfect For:
Work that depends on uninterrupted focus. Not all kinds of work will benefit from a constant buzz of activity. If your employees want quiet time, embrace their needs instead of following the trends of open floorplans. A small library added in office layout can also function as a hideout space.
Tips and Tricks:
Split group cubes into individual workstations.

Using conference rooms to have special "quiet hours" where employees can gather to work quietly together while also taking a break from their desks.

Having a reading niche or using sofas from break out spaces for flexible seating. Also, using ergonomic furniture to have convenient workstations.
Having The "Arty Colour Pop"
Key Features:
Long galley desks, whiteboards on dead walls, and pops of colour.
Perfect For:
Highly visual and creative work. In the artist loft, designers can create desks personalised in a way that they are close to each other for efficient communication. Whiteboards lining the office's perimeter encourage the free flow of ideas. Even if people aren't working on the same projects, they can find inspiration in each other's sketches.
Tips and Tricks:
Have a long horizontal row of desks or even a 'U' table of desks so that communication is easy.

Install prints and graphics designed by the company on the walls and around the office to add a pop of colour and inspiration.

Use colourful paints and wallpapers for the walls. This brightens the space inspiring more creative ideas.

Use arty furniture or DIY furniture to get the creative juices flowing.  
Having a Light-Filled Office
Key Features:
Large glass windows, office flooded with natural light, having openings in the North direction for more 'North Light' (Indirect sunlight)
Perfect For:
Offices that need to be updated, and office managers with small budgets. By simply letting in more light, adding mirrors, and switching out light bulbs, you can access untapped sources of light throughout the office. A great open office layout idea for small offices.
Tips and Tricks:
Add blinds to the large windows to defuse direct sunlight.

Add more mirrors to reflect the natural light entering the space. This brightens the area even more and creates illusions. (like a fake window)

Also, add appropriate lighting options to the office. Having desk lamps is another way to have a customised lighting option.
Think Vertical
Key Features:
Large storage cabinets that reach the ceiling height, having storage under stairs, having hidden cabinets in wall niches
Perfect For:
Offices that have a shortfall of space and yet have staff that needs personalised cabinets. Offices that have a lot of paperwork happening and need storage space. Offices that have an indoor staircase and the space under it is unused.
Tips and Tricks:
Use vertical space for stacking up cabinets and wall cupboards.

Long storage units will help keep the space clear since they can accommodate more documents and materials than the usual office storage solutions.

Also, exploit the unused space under a staircase (if your office has one) for having storage units.

Also, using vertical space up to the ceiling will give an illusion of having a spacious office.
Go-Green…Literally!
Key Features:
Having indoor plants, installing a small green wall, covering up a dull wall with a vertical garden, creating a small indoor garden, having low maintenance plants on workstations
Perfect For:
Any office where work is demanding. To inspire employees and work stress to be avoided. Additionally, this option of having indoor plants and gardens is comparatively cheaper than using decoratives in office.
Tips and Tricks:
Grow small indoor plants in office that are easy to take care of and add a little touch of green.

Have a green wall of low maintenance plants like Succulents. The green wall covers up a dead wall instantly making it eye-catching for the employees as well as passersby.

Create a vertical garden with recycled materials and containers that can change the appearance of the space. Also, using recycled materials like plastic bottles you can have an eco-friendly office with these vertical gardens hanging from the ceiling.
Introducing elements of bright colours, proper lighting for work, and getting rid of clutter will go a long way towards achieving a functional and enjoyable eco-friendly office even if you are tight on space. Do not let your cramped office get you down. Following these effective tips to make the most out of the limited space can enhance your office space utilisation.