As an architect or a designer, thinking of "designing the workplace of the future" is always challenging. But, take inspiration from architect John Pickard from New Haven, Connecticut, who asserts that cool or futuristic offices are not the kind that are robotic. In fact, it's the new technology blended with new trends that make your office different from the others. Automated building structures are not the future, they are the present! Corporates and multinational companies like Google and Box have a different approach of being cool. Unique layout designs, more relaxed workspaces, colourful furniture, even nap pods to rest during long working hours are the newly followed contemporary workvibe.
But these themes are already outdated. If you want to bring in new-school cool, simply wheel in a vertical garden straight to your office! Apart from all the colourful jazz added to office space, vertical gardens are now the elucidation of a cool office. We already know that greenery provides an excellent balance to the heavier, darker colors used for large wooden desks or plain exterior facades. Now, with a vertical garden, every office can attain this balance. If you're looking for inspiration, take some from this list of the coolest offices with vertical gardens we've compiled.
KMC Corporate Office in Hyderabad, India
Image source: RMA Architects
Located in India's cyber-city, this corporate building employs the idea of 'double skin' as a visually dynamic facade of plants. A double skin consists of a two-layered wall. The inner wall is the existing frame of the building and the installed vertical gardens form the outer wall. The KMC corporate office stands out from among the other office buildings in the locality because of its blooming vertical gardens on the exterior walls.
      2.HERE Office, Bengaluru, India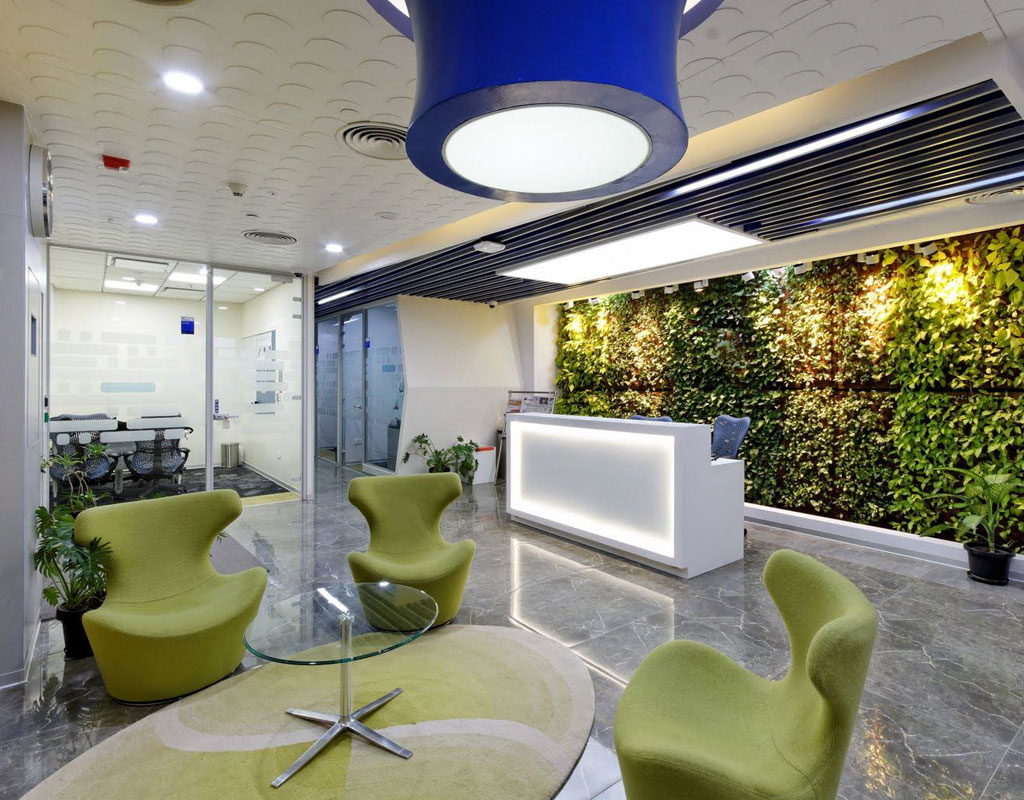 Image source: www.officesnapshots.com
HERE is a leader in providing navigation, mapping and location experience services. The HERE office located in Bengaluru is a great example of framed vertical gardens used in the reception area.
Oriana Facade Office at Surat, India
Images sources: www.officesnapshots.com
A design firm called Oriana Facade, located in Surat, has their office designed by ADDA architects and urban designers. The office's main terrace facade is separated into a geometric grid of glass partitions set with the spider hinges. The vertical garden, choreographed to manufacture shadows and intrigue, steals the limelight of the office terrace.
Amazon BLINK Office at New Delhi, India
Image source: www.officesnapshots.com
Amazon gave Ultraconfidential Design the opportunity to conceptualize the first Amazon Fashion Studio in India. The rustic look of the office studio creates its own unique style with a glimpse of textile, fashion and natural elements. The office studio consists of an entire plain wall converted into a green wall vertical garden system. The transparent roofing system delivers natural light to the plants and brings fresh air into the office.
Booking.com Office in Mumbai, India
Image source: www.officesnapshots.com
Booking.com's new office in the heart of Central Mumbai's business district is divided into various 'themed' zones. Each zone demonstrates specific cultures that define Mumbai. The reception showcases a typical street market highlighted by authentic novelties such as an ornamented 'autorickshaw' and colourful carpets. The vertical garden system in the wall gives a touch of green vegetation with urbanized wall claddings, which displays Mumbai's Cityscape.
CBRE Office in Barcelona, Spain
Image source: www.officesnapshots.com
CBRE Architecture has designed their new office environment for their team located in Spain. The green wall in the reception area forms the background for the company logo and highlighting it with flood lights gives visitors a visual appeal.
Wix.com Office at Miami Beach, Florida
Image source: www.officesnapshot.com
Stantec designed the offices for Wix.com, a worldwide leading cloud-based web development platform, located in Miami, Florida. The Wix logo in the main reception area is green marketed with the use of vertical garden systems. The wall frame, lasered in the word 'WIX', consists of live plants and moss vertical systems, blending into the wooden frame.
TripAdvisor's Headquarters in Massachusetts, United States
Image source: www.officesnapshots.com
Image source: garden on the wall
TripAdvisor's "un-corporate" headquarters serves as a place for connecting teams globally. The entire office hall consists of dead walls converted into vertical garden wall systems and biowalls consisting of various species of plants and mosses. This office has been LEED qualified and given gold points for sustainability.
All the above offices we've explored tell us one thing – that vertical gardens make offices look cool. But did you know that they also make offices feel cool? Even a small vertical garden installed in a corner of your office reduces the ambient temperature by 2° C. So what are you waiting for? Take that plunge and install a vertical garden in your office to up your coolness factor, in more ways than one!